Profile
Reaching for normal is exhausting.
This journal contains content only suitable for those over the age of 18.
Free Account
Created on 2009-04-23 13:42:26 (#118239), last updated 2017-08-14 (4 days ago)
338 comments received, 2,468 comments posted
279 Journal Entries, 224 Tags, 4 Memories, 15 Icons

About

Mini Bio
My Anti-Drug is Sean and Elijah.

Sean/Elijah and Frodo/Sam moving color bars were birthday gifts from Ladysnaps. Thank you, dear Lady!
I am a writer of ElijahWoodcentric fiction in the form of LOTR RPS (mostly Elijah with Sean Astin), Faculty fics and Elijah AU's. This journal contains fics of an adult nature whose subject matter includes homoerotic images and male/male sexuality, both tame and explicit, so if you haven't yet reached your eighteenth birthday, these stories are not for you. If you are under 18, I ask that you respect my request that you don't visit my journal until you have reached a birthday that makes the material appropriate for you to read.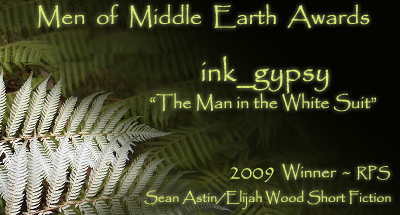 Connect

People
[View Entries]

Communities
[View entries]

Member Of (25):
astin_land
,
elibrarians
,
elijah_finds
,
fan_flashworks
,
fancake
,
fandomcalendar
,
fffc
,
fic_promptly
,
fiction_drabbles
,
lotrip_all_fic
,
multific
,
not_primetime
,
onedeadplotbunny
,
picture_prompt_fun
,
read_lotr_aloud
,
shirebunnies
,
snowflake_challenge
,
stargate_atlantis
,
stargate_love
,
tgbbo
,
tol_eressea
,
troubledtribble
,
waymeet
,
whiteshores
,
woodlust

Subscriptions (29):
astin_land
,
daily_prompt
,
dw_maintenance
,
dw_news
,
elibrarians
,
elijah_finds
,
fan_flashworks
,
fancake
,
fandomcalendar
,
fffc
,
fic_promptly
,
fiction_drabbles
,
lotr_cast_fandom
,
lotrip_all_fic
,
multific
,
not_primetime
,
onedeadplotbunny
,
picture_prompt_fun
,
read_lotr_aloud
,
shirebunnies
,
snowflake_challenge
,
stargate_atlantis
,
stargate_love
,
tgbbo
,
tol_eressea
,
troubledtribble
,
waymeet
,
whiteshores
,
yuletide4frodo

Administrator Of (1):

Feeds
[View Entries]

Linking
To link to this user, copy this code:
On Dreamwidth:
Elsewhere: